There are a wide range of Cambridge English exams. Cambridge English: Young Learners(YLE) and Cambridge English: General English qualifications are respectively the beginner and intermediate level exams for students from kindergarten to junior secondary.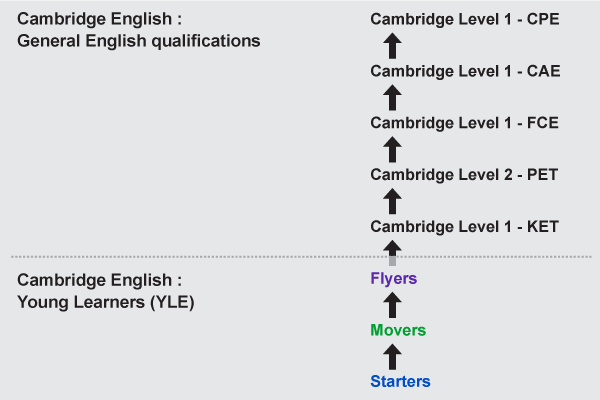 As shown on the flow chart above, students first finish the YLE tests (Starters>Movers>Flyers) and then proceed to take the tests for General English qualifications (KET> PET>FCE> CAE>CPE) step by step.
Below we will briefly introduce the first 4 tests - Starters, Movers, Flyers and KET, as they are the centers of ICAM.
Cambridge English: Young Learners is a series of fun and engaging activity-based English language tests. They encourage children aged between 4 to 12 to everyday written and spoken English, and are an excellent way to gain confidence and improve their English.
Covering the four language skills: Reading, Writing, Speaking and Listening, the tests are created for children and use topics they are familiar with. Students are encouraged to move through the three levels: Starters, Movers and Flyers. Therefore, teachers can motivate their students to learn English, and parents can see the progress and achievements made.
In Hong Kong, you can take a Cambridge English exam with British Council.
You can find exam dates, fees, and the registration period for upcoming Cambridge English exams here. And you can register for the exams here.